This light and airy whipped vanilla bean ricotta cream with strawberries and balsamic reduction is the perfect healthy and stunning dessert.
What is ricotta cream?
Ricotta cream is a whipped, sweetened ricotta cheese. It is airy, fluffy, and heavenly.
Ricotta cream is THE perfect choice when you need a light but decadent dessert. Summer is here, therefore, I am eating every berry in sight. Strawberries, raspberries, blackberries, blueberries…I don't discriminate.
This summer we grew our own strawberries, blueberries, and blackberries so I'm always looking for new and inventive ways to use them.
I have many tried and true berry recipes but I'm always on the lookout for new favorites. These are just a few of my favorite berry recipes to check out:
This post was created in partnership with FITNCLEAN Vanilla. All opinions are my own and I only endorse products that I know and love.
[Missouri Girl Home is a participant in the Amazon Services LLC Associates Program, an affiliate advertising program designed to provide a means for sites to earn advertising fees by advertising and linking to Amazon.com].
Whipped Vanilla Bean Ricotta Cream
Ricotta cheese for dessert?
This might sound a little peculiar, however, I tell you it's amazing.
Everything in this recipe works.
Each layer adds the perfect combination of creaminess, sweetness, and tang.
So good.
And the colors are amazing. Nothing photographs like fresh berries. Add a little balsamic drizzle on top and you have a picture perfect summer dessert.
Balsamic reduction reduction dessert sauce
Balsamic vinegar for dessert?  Sounds crazy, right?  Well, let me tell you that the this tangy but sweet sauce is the perfect compliment to the macerated strawberries and ricotta cream.  
A balsamic reduction is a thicken sauce made by simmering balsamic vinegar until enough moisture evaporates to create a naturally sweet, thick, and tangy sauce.  
Balsamic reduction can be a bit tricky to get right, however, don't be intimidated.
It is so easy and it is ready in minutes.
The key is to simmer on low and don't walk away! It is like making caramel, it will burn the second you take your eyes off of it. But if you don't want to tackle this just yet you can purchase a bottle of balsamic reduction at select local grocers or online.
I love balsamic reductions and have used it in several recipes including these Cream Cheese Stuffed Peppadew Peppers. 
Homemade vanilla extract
This ricotta cream is bursting with vanilla flavor with homemade vanilla extract and specks of gourmet vanilla bean seeds.
My homemade vanilla extract was made with FITNCLEAN Vanilla beans and it is amazing. It is made with just two ingredients and you can be sure there are no sneaky ingredients hiding in there. Check out my guide for making the best homemade vanilla extract.
FITNCLEAN VANILLA BEANS
My favorite vanilla beans are from FITNCLEAN Vanilla (affiliate links to follow). I ordered them from Amazon and was extremely pleased with the quality.
First, the vanilla beans were packaged well. Secondly, they were quick to arrive. Thirdly, the aroma when I opened the package was incredible. Finally, the amount of seeds I got from just one bean was a pleasant surprise and far superior to the vanilla beans I had previously purchased.
If you have never smelled a fresh vanilla bean, you are seriously missing out.
Plus, cutting open the vanilla bean and scrapping out the seeds is fun stuff!
In addition, FITNCLEAN Vanilla Beans are:
Non-GMO

Gluten-free

Free of chemical pesticides and fungicides
You can order by quantity and type on Amazon (CLICK BELOW FOR PURCHASE OPTIONS)
Also, FITNCLEAN Vanilla has wholesale options available directly on their website with free shipping at:
Enjoy!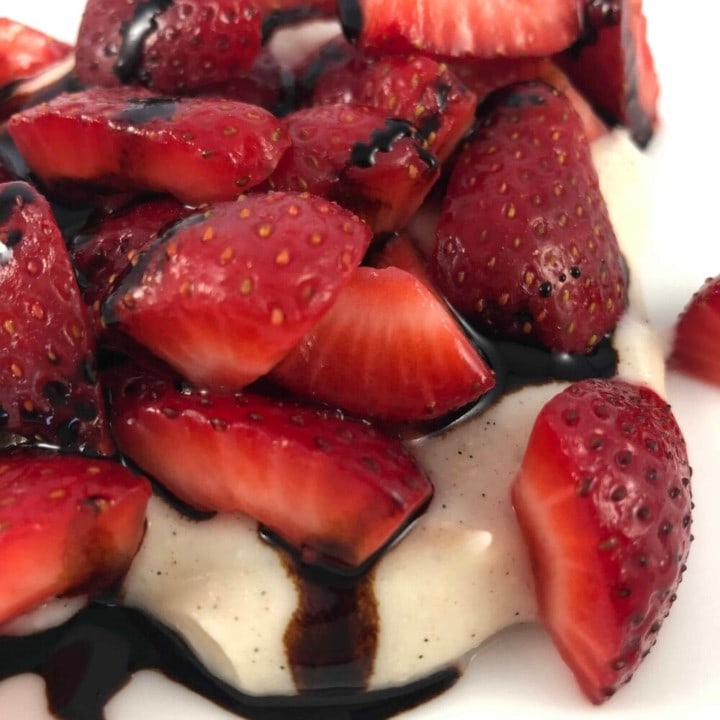 Whipped Vanilla Bean Ricotta Cream With Macerated Strawberries and Balsamic Reduction
This light and airy whipped vanilla bean ricotta cream with berries and balsamic reduction is the perfect healthy and stunning dessert.
Ingredients
  Macerated Strawberries
2

cups

strawberries

sliced

2

teaspoon

sugar

2

teaspoon

lemon juice
Ricotta Cream
2

cups

light ricotta Cheese

½

teaspoon

lemon juice

fresh

½

teaspoon

cinnamon

½

teaspoon

pure vanilla extract

½

teaspoon

vanilla bean seeds

I recommend Madagascar or Tahitian.

1

tablespoon

honey
Instructions
Make the Macerated Strawberries:
Combine the strawberries, sugar, and lemon juice in a small bowl.

Stir to combine. Set aside.
Make the Ricotta Cream
Add the ricotta cheese, lemon juice, cinnamon, vanilla extract, vanilla bean seeds, and honey to a small food processor, bullet blender, or blender. Blend until smooth and creamy.
Make the balsamic reduction
Add the balsamic vinegar to a small saucepan.

Simmer over low heat for about 5 minutes or until the liquid is reduced by half (or more) and becomes thick and syrupy. Watch carefully as it burns easily.
Assemble
Spread ½ cup ricotta cream on a small plate or in a small serving dish.

Top with strawberries and then drizzle with the balsamic reduction sauce.
Notes
Remember to not walk away from the balsamic vinegar as it reduces as it can quickly burn.   
A little balsamic reduction goes a long way.  However it takes a lot of balsamic vinegar to make a little balsamic reduction.  You will wind up with about ⅓ of the amount you start with, depending on your desired thickness.