This creamy white mac and cheese is so easy and delicious that you will wonder how you ever lived without it.
Why is this the BEST white mac and cheese recipe?
This white mac and cheese is also a frequent guest at my gatherings as it:
feeds a crowd
keeps well in a slow cooker
is ready in under 20 minutes
it only has 6 ingredients
consists mostly of staple ingredients (white American cheese is definitely a staple in my house).
Handy recipe to have, right?
Copycat Panera white mac and cheese recipe
I first created this recipe for my youngest daughter. Aka: the picky eater.
The one thing she was always guaranteed to eat was Panera's mac and cheese.
What I wasn't counting on was that she would like it so much that she traded her affection of Panera's mac and cheese for mine.
I quickly learned I could easily modify the amounts for single serving size as well. Phew!
What is the best cheese for white mac and cheese?
White American Cheese is the secret ingredient to incredibly creamy and delicious homemade white mac and cheese.  It creates that smooth, thick, and cheesy sauce signature white mac and cheese sauce.  
How to make an easy and quick homemade white mac and cheese
Boil your pasta
Begin by boiling water and cooking your pasta of choice per package recommendations for "al dente".
Make a roux for the white sauce
While the pasta is cooking, make the roux. A roux is a mixture of flour and a fat (in this case butter) that is used as a base and thickening agent for the sauce.
Add the butter to a medium-large heavy sauce pan and melt over medium heat. Once melted, add the flour and stir well.
Simmer over medium heat 2-3 minutes, stirring occasionally to cook out the "flour" taste.
Make the bechamel
Slowly add the milk while stirring constantly until well combined.
Simmer for 3-5 minutes until the sauce becomes creamy and thickened.
At this point the sauce is referred to as a bechamel, or white sauce.
Bechamels are used as a base in many french recipes or when making creamy sausage gravy.
Stayed tuned as you'll be seeing this again soon in some of my upcoming recipes. I have a suspicion that a croque madame is coming soon.
Add the white American Cheese
Next, add the shredded white American cheese and salt.
Stir well until all of the cheese is melted and the sauce is heated through. Remove from the heat.
Just look at this creamy, dreamy, cheesy sauce!
Combine the pasta and cheese sauce
Drain the pasta and add to the yummy sauce. Fold in gently and then let the pasta sit in the sauce for at least 3 minutes to allow the sauce to absorb and get into all of the nooks and crannies.
Enjoy!
Looking for additional pasta recipes? Check out this Cacio e pepe (Cheese and pepper noodles)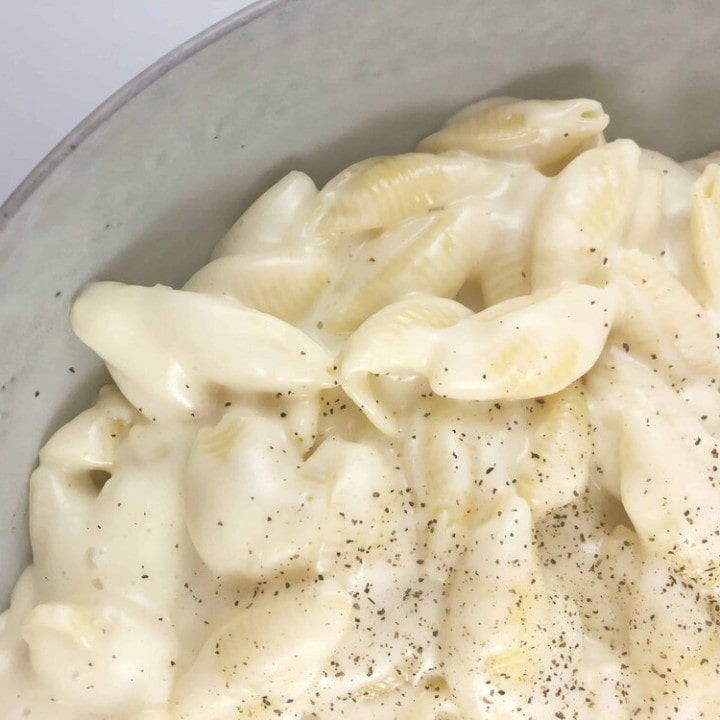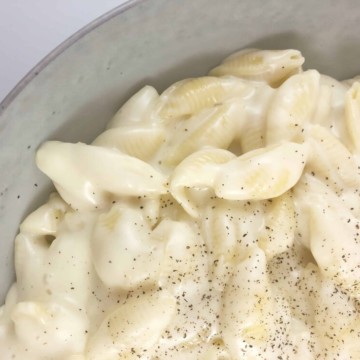 Easy Homemade White Mac and Cheese
This easy homemade white mac and cheese is better than any store bought or restaurant mac and cheese and can be made ahead of time and kept in a crock pot for large gatherings.
Ingredients
1

stick

salted butter

¼

cup

all purpose flour

3

cups

milk

1

teaspoon

salt

16

oz

shredded white American cheese

1

lb

medium dried pasta shells
Instructions
First make the pasta per manufacturers instructions for 'al dente" in a large pot.

While the pasta cooks, add the butter to a large heavy saucepan.

Melt the butter over medium heat.

Add the flour and stir well.

Cook over medium low heat for 2-3 minutes stirring constantly, until bubbly and thickened.

Slowly add the milk, stirring constantly to prevent lumps.

Increase heat to medium and simmer for about 5-10 minutes until the sauce is thick and creamy.

Add the salt and shredded cheese.

Stir until the sauce is smooth and the cheese is completely melted.

Drain the pasta and add back into the large pot.

Add to the cheese sauce to the pasta.

Gently fold in and allow to sit for about 3 minutes.

Serve immediately or keep warm in a slow cooker.