This spicy pork with charred green beans is a fast, easy, healthy, and gluten free dinner that comes together in minutes.
It has all of the things that make a great weeknight meal:
healthy
has a vegetable
has a protein
quick
flavorful
I am so incredibly excited to share this recipe with you!
So excited, in fact, that I just finished eating this very meal for dinner and now I am busy writing because it's too good to not post RIGHT NOW.
I really had no intention of posting this recipe when I started, hence, none of the usual progress photos.
Sigh. Oh well.
I just loved the finished product so much and those green beans looked picture perfect…so here you go. Sometimes the "testing" turns into a keeper. This one is definitely a keeper.
It checked all of the boxes for me: a little sweet, a little salty, a touch of spice, and all of the Asian flavors that I love.
The spicy pork
The pork gets it's flavor from the addition of spices and a sauce. The spicy comes from sriracha and can be easily adjusted to taste. This recipe is spicy but it is on the mild side. For a little more spice I would add some additional sriracha.
The charred green beans
I first got the idea for this recipe when I walked into the grocery store earlier today and there were bags of fresh green beans greeting me at the front door. How could I pass that up?
Even the hubby, who is the ultimate green bean hater, actually ate it. Epic moment! It only took 20 years.
The green bean are lightly charred for additional flavor. I'm not sure I will ever eat another green bean without charring it first. It's amazing.
Oh and even thought I chose to eat it "as is", I bet it would also be fantastic with a side of rice.
Gluten free spicy pork with charred green beans
This recipe can be made gluten free by substituting soy sauce with Tamari, which is a gluten free soy sauce.
Check out these Missouri Girl Home Gluten Free recipes.
Enjoy!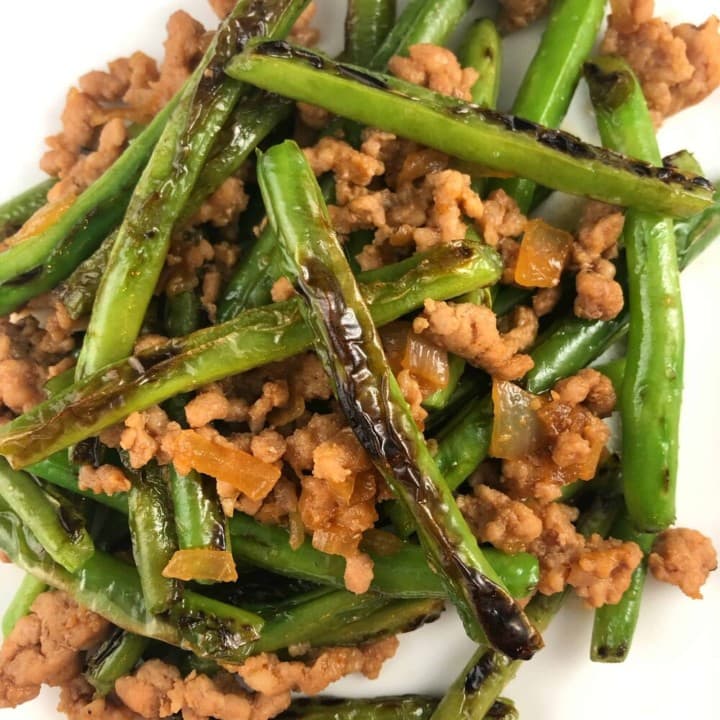 Spicy Pork with Charred Green Beans
This spicy pork with charred green beans is a fast, easy, healthy, and gluten free dinner that comes together in minutes. It is the perfect weeknight meal option.
Ingredients
Sauce:
2

tablespoon

soy sauce

(or Tamari if gluten free)

2

tablespoon

mIrin (Chinese sweet cooking wine)

1

teaspoon

light brown sugar

firmly packed

2

teaspoon

sriracha

(a little more if you like a little extra kick)

½

tsp

dijon mustard
Charred Green Beans:
1

lb

fresh green beans

1

tablespoon

vegetable or peanut oil

divided

salt to taste
Pork:
¼

large onion

finely diced

½

tablespoon

vegetable oil

1

clove

garlic

crushed

1

lb

ground pork

½

teaspoon

ground ginger
Instructions
Make the sauce:
Place all ingredients for the sauce in a small bowl and mix well. Set aside.
Char the green beans: 
Trim the ends of the green beans.

Heat ½ tablespoon vegetable oil in a heavy skillet over medium-high heat (watch for burning).

Add ½ of the green beans, spread them out.

Cook for 1-2 minutes until they start to char.

Give a quick stir, spread out once again, and then continue cooking for another 2 minutes.

Stir again and continue cooking and stirring until they are barely soft.

Move to a plate, repeat with the rest of the green beans, and move to a plate. Set aside.
Make the pork:
Turn the heat down to medium and add the remaining ½ tablespoon vegetable oil.

Cook for 2-3 minutes until the onions start to soften.

Add the garlic, stirring constantly to prevent the garlic from burning.

Turn the heat back up to medium-high.

Add the pork and break it up with a spatula.

Sprinkle the ground ginger over the pork.

Cook until the pork is cooked through, stirring occasionally.

Cook for 60 seconds, add the green beans, and then cook and stir for another 60 seconds.
Notes
This is also great with a side of white rice.