Learn how to revive a sourdough starter using a few easy tricks that I have learned along the way.
So you have made, bought, or been given your first sourdough starter and it has been carefully fed and nurtured.
You are are ready to begin making all of those delicious sourdough recipes you have been looking at but there is just one little problem… your sourdough starter is looking a little sleepy.
Well, the good news is there is likely an easy solution to your inactive sourdough that can be fixed with a few tweaks.
Jump to:
What should a sourdough starter look like when it is ready to use?
A healthy starter that is ready to use should be nice and bubbly, indicating that all those beneficial microbes are alive and well. An active and healthy sourdough starter will double its size within 3-4 hours of feeding. If this is not occurring, then there is an issue either with the starter itself or the environment it is in. If the sourdough starter has been neglected, forgotten in the refrigerator, or has turned black then you may still be able to save it.
Troubleshooting
Make sure there is no mold or orange/pink streaks in the sourdough. If there is then throw it away and start over by making a new sourdough starter.
Increase your feedings. If you have been doing feeding one time per day then increasing the feeding to two times per day can improve the activity of the sourdough starter.
Make sure you are feeding and maintaining your sourdough starter appropriately.
Use unbleached flour as bleached flour can inhibit activity.
Add rye flour to feedings for extra nutrients and increased activity.
. Don't overheat your starter. Overheating a sourdough starter will kill it. Temperatures over 140 degrees Fahrenheit will result in a dead starter but I have found that prolonged exposure to heat less than this can still effect the starter. On the same note, make sure you are not placing your starter in direct sunlight.
Use warm, filtered water. Water that is cold or has things added like chlorine could be stunting your starter.
Increase the temperature of your starter. Sourdough starters are most active at temperatures ranging from 75 to 85 degrees Fahrenheit (aka NOT MY HOME).
My wintertime sourdough starters do seem to be a bit more sluggish than my summertime starters, especially sitting on my cool granite counter tops. It's relatively easy to increase your feedings and use warm, filtered water but what to do about increasing the surrounding temperature of your starter?
Warming up your sourdough starter
So you need to bake soon but your sourdough is not cooperating. You're in luck, because all you likely need to do is feed it and then increase the starter temperature a bit. But what is the best way to warm up a sourdough starter?
There are several ways to heat up your sourdough starter safely. Note: I don't recommend placing it into an oven that has been turned off or with the light on because it accidentally gets too hot you will have a dead starter.
When deciding the best way to heat up a sourdough starter consider the time of year and the outside temperature.
In colder months your heat is likely on so I like to do something a little unconventional…I put the sourdough starter crock directly on the heat vent to bask in the warm air. Works like a charm.
Another way to warm up your starter is to fill up a Crockpot with hot water and turn it on low heat. Set your sourdough starter near the warm crock pot for a few hours.
In the summer months when you don't want to use your crock pot and your heat isn't on, then you can always just set your sourdough starter outside out of direct sunlight (as long as the temperatures aren't scorching hot).
Rustic Dutch Oven Sourdough Bread
Now, let's bake!
Make bakery quality sourdough bread at home using a dutch oven. Favorite sourdough recipe ever!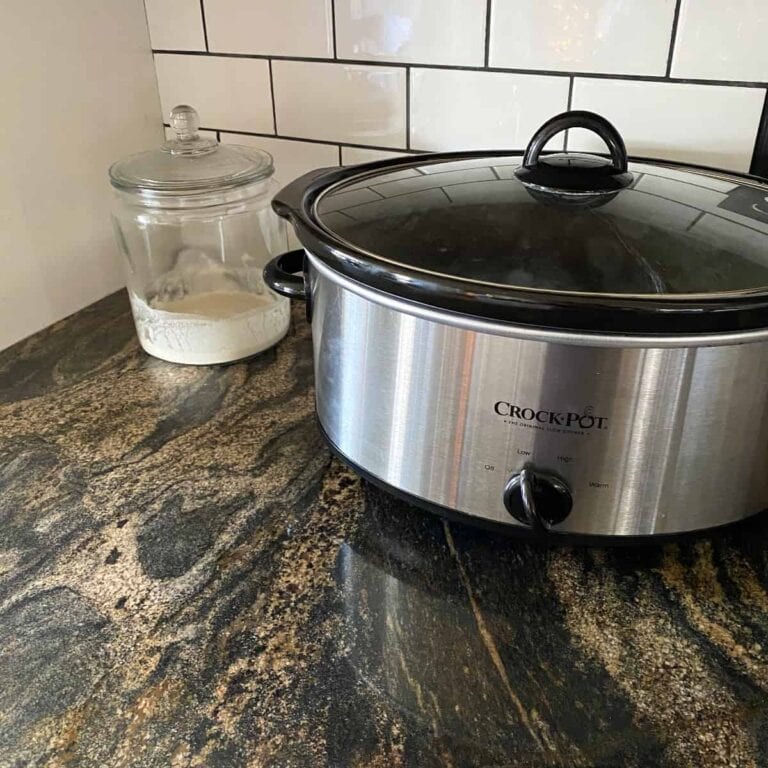 How To Revive A Sourdough Starter [Troubleshooting Sourdough Starter Problems]
Learn how to revive a sluggish and unhealthy starter fast with a healthy feeding schedule, quality ingredients, and a warm environment.
Ingredients
warm unfiltered water

unbleached all-purpose flour
Instructions
The first step in reviving a tired and sluggish sourdough is to feed it.

To feed the sourdough starter you will add ¼ cup starter, ¼ cup very warm filtered water, and ½ cup unbleached all-purpose flour to a clean glass jar (needs to hold at least 3 cups).

Set the sourdough starter in a very warm location, like on a countertop behind a crockpot that is filled with warm water and turn to the low setting.

Check for activity in 3 hours. If the starter isn't rising or bubbling, then continue to check it every hour until activity is noted.

Feed the starter every 12 hours until the it becomes bubbly and active within 3 hours of feedings. At that point you can decrease feedings to 1 time per day.
Notes
If the sourdough starter continues to be sluggish then replace half of the unbleached all-purpose flour with rye flour for an extra nutrient boost.