These ultimate healthy and easy oatmeal pancakes were adapted from my Secret Ingredient Buttermilk Pancakes and are perfectly fluffy with a delicious crispy outside and can be made dairy-free if desired.
Can healthy pancakes really taste good?
Tired of trying easy oatmeal pancake recipes that taste, well, healthy? It took me years, and many barely edible attempts, to perfect this recipe and I can't to share it!
Pancakes and chocolate chip cookies. My two favorite things in this world.
Unfortunately not the healthiest of options.
I had been testing and tweaking healthy pancake recipes for YEARS before I finally got "the one".
It took so long to get this recipe right because I'm VERY particular about my pancakes.
They must be thick and fluffy, have that signature crispy edging, and they can NOT taste like they are healthy.
Why eat a pancake if it's not fantastic, right?
After all, pancakes are one the most indulgent mainstream breakfast items. It's literally a cake in a pan…for breakfast.
A socially acceptable cake for breakfast.
As much as I love pancakes, I am also an advocate of moderation. So a pancake for breakfast on a regular basis is, sadly, not in the cards for me.
At least it wasn't…until now.
Healthy ingredient substitutions
As I mentioned before, these healthy oatmeal pancakes were adapted from my Secret Ingredient Buttermilk Pancake recipe.
These were the substitutions I made to turn this "cake in a pan" into a healthy breakfast option that I can enjoy, guilt free, on a consistent basis:
The butter was substituted with olive oil. The original pancake recipe had a fat base of equal parts olive oil and butter. Haven't tried an olive oil pancake? It's my secret to a moist and fluffy pancake. Try it and you'll never go back!

⅔ of the AP flour was replaced with whole wheat pastry flour.

Oats were added for a little extra fiber.

The sugar was replaced with honey. This recipe has NO added refined sugar. It relies on honey and the natural sweetness of the blueberries for it's sweetness.

The syrup was replaced with a homemade blueberry syrup (this stuff is amazing, read on for the juicy details).
Dairy-free oatmeal substitutions
This recipe can also be dairy-free by replacing the buttermilk with a milk alternative plus some lemon juice to amp up the taste and assist with a little extra fluffiness. Both almond milk and coconut would work well.
Also make sure to omit the butter in the pan and use only coconut oil.
Healthy Toppings
There are an abundance of healthy and easy oatmeal pancake toppings to consider but these are a few of my absolute favorites:
homemade blueberry syrup
banana nut with maple syrup
dark chocolate and walnuts with maple syrup
Healthy Homemade Blueberry Pancake Syrup
By now, I hope I've sold you on the pure fantastic-ness of these pancakes. If not, the best is yet to come.
These pancakes are made complete with the addition of a healthy homemade blueberry syrup that I adapted from a blackberry sauce that I made for my Blackberry and Mozzarella Grilled Cheese.
I can eat this stuff by the spoonful…and have…on numerous occasions.
This easy blueberry pancake syrup is ready in minutes and is the perfect compliment to these already delicious oatmeal pancakes.
The balsamic vinegar adds a bit of tang to the sweet and it creates a perfectly balance sauce.
Or…
Healthy Banana Nut Pancakes
You can do a banana nut bread version by topping it with sliced bananas, walnuts, and some pure maple syrup.
Maybe a few of those chocolate chips could sneak their way it too.
Oh yum!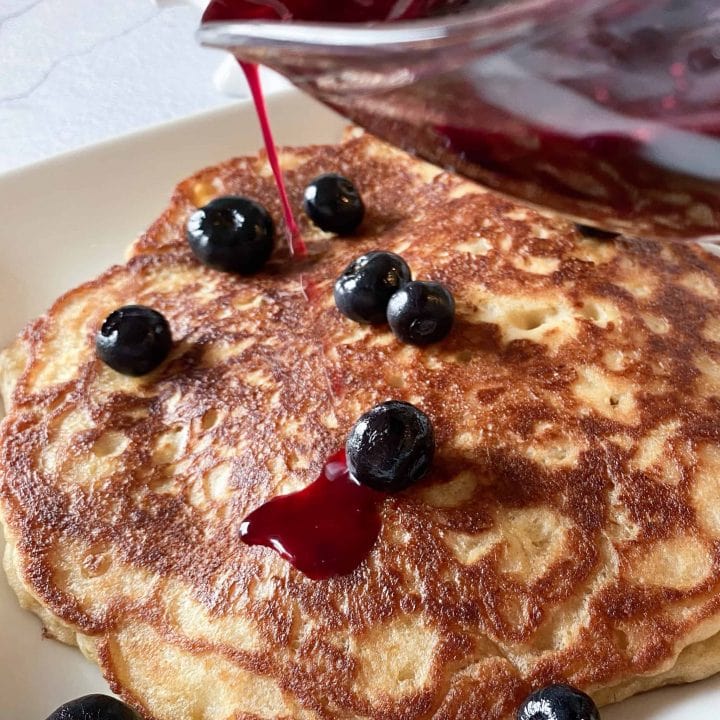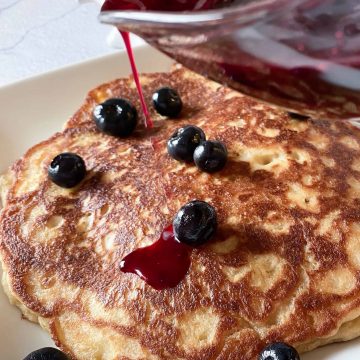 Healthy Buttermilk Pancakes [Oatmeal Olive Oil Pancakes] With Homemade Blueberry Syrup
This ultimate healthy and easy oatmeal olive oil buttermilk pancake is perfectly fluffy with a delicious crispy outside and can be made dairy-free if desired.
Ingredients
coconut oil and butter for the pan

(just coconut oil if dairy-free)
Pancake Batter
¾

cup

oats

(quick or old fashioned)

⅔

cup

whole wheat pastry flour

¼

teaspoon

baking soda

⅓

cup

all purpose flour

1

teaspoon

baking powder

⅛

teaspoon

salt

1

cup

buttermilk

(or one cup almond milk/coconut milk with 1 tablespoon lemon juice)

3

tablespoon

olive oil

2

tablespoon

honey

1

egg

lightly beaten
Homemade Blueberry Pancake Syrup
1

pint

blueberries

¼

cup

water

2

tablespoon

honey

2

tablespoon

freshly squeezed lemon juice

1.5

teaspoon

balsamic vinegar

½

teaspoon

salt
Instructions
Make the pancake batter:
In a medium bowl combine oats, both flours, baking powder, baking soda, and salt. Stir well and set aside.

In another medium bowl combine the olive oil, honey, lightly beaten egg, and buttermilk (or dairy-free alternative plus lemon juice). Stir well.

Add the flour mixture to the buttermilk mixture. Stir until just combined.

This particular batter will be on the thicker side. Let the batter rest at room temperature for 5-10 minutes. The batter will lighten up slightly as it sits which will give you a nice fluffy pancake.
Make the homemade blueberry syrup
While the batter is resting, make the blueberry syrup.

Add all of the ingredients for the blueberry sauce to a small sauce pan.

Heat over medium heat until the liquid begins to simmer.

Turn the heat down slightly and continue to simmer for an additional 2 minutes.

Lightly mash the blueberries with a fork. Continue simmering for an additional 3 minutes or until the sauce thickens slightly.

Turn off the heat and let the sauce sit for about 5 minutes to continue thickening.
Make the pancakes
While the syrup sits and thickens, finish the pancakes.

Add ¾ teaspoon coconut oil and 1/10 tablespoon butter (just an itty bitty sliver-omit if dairy-free) to a skillet that has been heating over medium heat and swirl to combine. The butter should sizzle when added to the pan. If it doesn't sizzle, the pan is not hot enough (if it smokes heavily then it's too hot).

Add ¼-1/2 cup batter (depending on the size of the pancake you want) to the pan. The batter is thick so spread it out a bit. The batter should sizzle when it hits the pan. If it doesn't sizzle the pan is too cold and you won't get that crispy edge that I love so much.

Flip the pancake when there are a few bubbles on top and the bottom is a nice golden brown then continue to cook until baked through.

Top with homemade blueberry syrup or toppings of choice.