This healthy banana nut farro breakfast bowl is filling, nutritious, packed with protein, and is a delicious way to start your day. Replace oatmeal for this ancient grain for a farro porridge or substitute rice for a savory dish.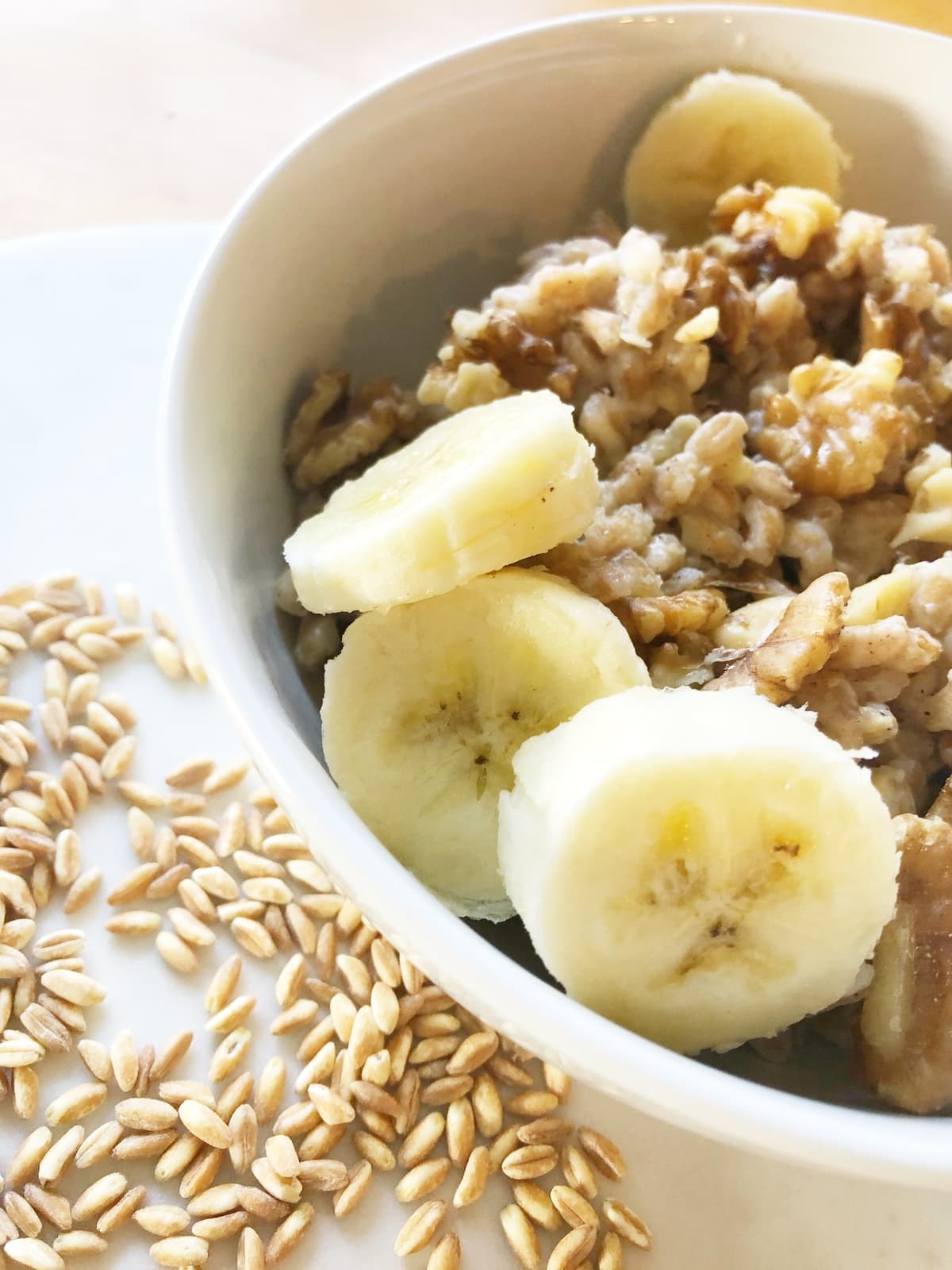 I am typically an oatmeal-for-breakfast-every-weekday kinda girl.
It's hearty, healthy, yummy, easy, and you can always mix it up a bit by changing the add-ins.
My typical morning bowl consists of oats, chia seeds, flax seed, sweetener (maple syrup, honey, dates), add-ins (nuts, fruit), and milk of choice (cow's, almond, coconut). Sometimes I really go crazy and swap out the oats for a grain.
My new favorite grain is farro.
What is Farro
Farro is an ancient grain that's well known for its health benefits.
It is rich in fiber, iron, protein, minerals like magnesium, and antioxidants. Perfect for a healthy, hardy breakfast or fueling for your runs/workouts.
It has a slightly nutty flavor and has a firmer, slightly chewy bite. It bares many similarities to barley.
Farro Uses
Farro is widely used in both sweet and savory dishes. It is a great swap in recipes that call for oatmeal or even rice.
I once made a mushroom farro that was similar to a risotto. It was delicious!
My favorite way to use it, however, is as a breakfast bowl.
This recipe is for a single serving. Just double or triple the recipe depending on the serving size needed.
How to prepare farro
Rinse (optional)
To start, it is recommended to rinse the farro prior to cooking, like you would rice, but I find myself skipping this step more often than not.
Toast (optional)
Next, lightly toast the farro over medium-low heat for about 10 minutes, until lightly toasted. Swirl frequently for even toasting and to prevent burning (this step is optional, but brings out the nutty flavor in the farro).
Cook
Bring 1 cup water and ⅛ teaspoon salt to a boil.
Stir in ½ cup farro. The traditional ratio is 3 parts water to 1 part farro, but I like to cook down the farro and then add the milk of choice so it has a creamier texture. in this case, I started with a 2:1 ratio.
As it cooks, you'll notice that the farro does not expand much, but the water will start to dissipate.
Once all of the water has been absorbed (about 15 minutes), you are ready for the next step.
Ingredients
All you need to make a farro breakfast bowl are two ingredients: water and farro. Then you can customize your bowl by adding toppings such as milk, nuts, fruit, etc.
How to make a Banana Nut Farro Bowl
For this breakfast farro, I went with a banana nut version which is my favorite so far. You seriously feel like you're indulging in a warm slice of banana nut bread. Yum!
Now that you have cooked your farro just add your milk of choice (almonds, coconut, cow, cashew) and half of a mashed, ripe banana. Stir well.
The milk of choice today is coconut almond milk (but feel free to use whatever you have). Add ½ cup and simmer over low heat for an additional 5 minutes or until most of the coconut almond milk has been absorbed.
Finally, add ⅛ teaspoon cinnamon, an additional ⅛ teaspoon salt, ½ teaspoon sugar, sliced bananas, walnuts (or pecans), and additional coconut almond milk per preference.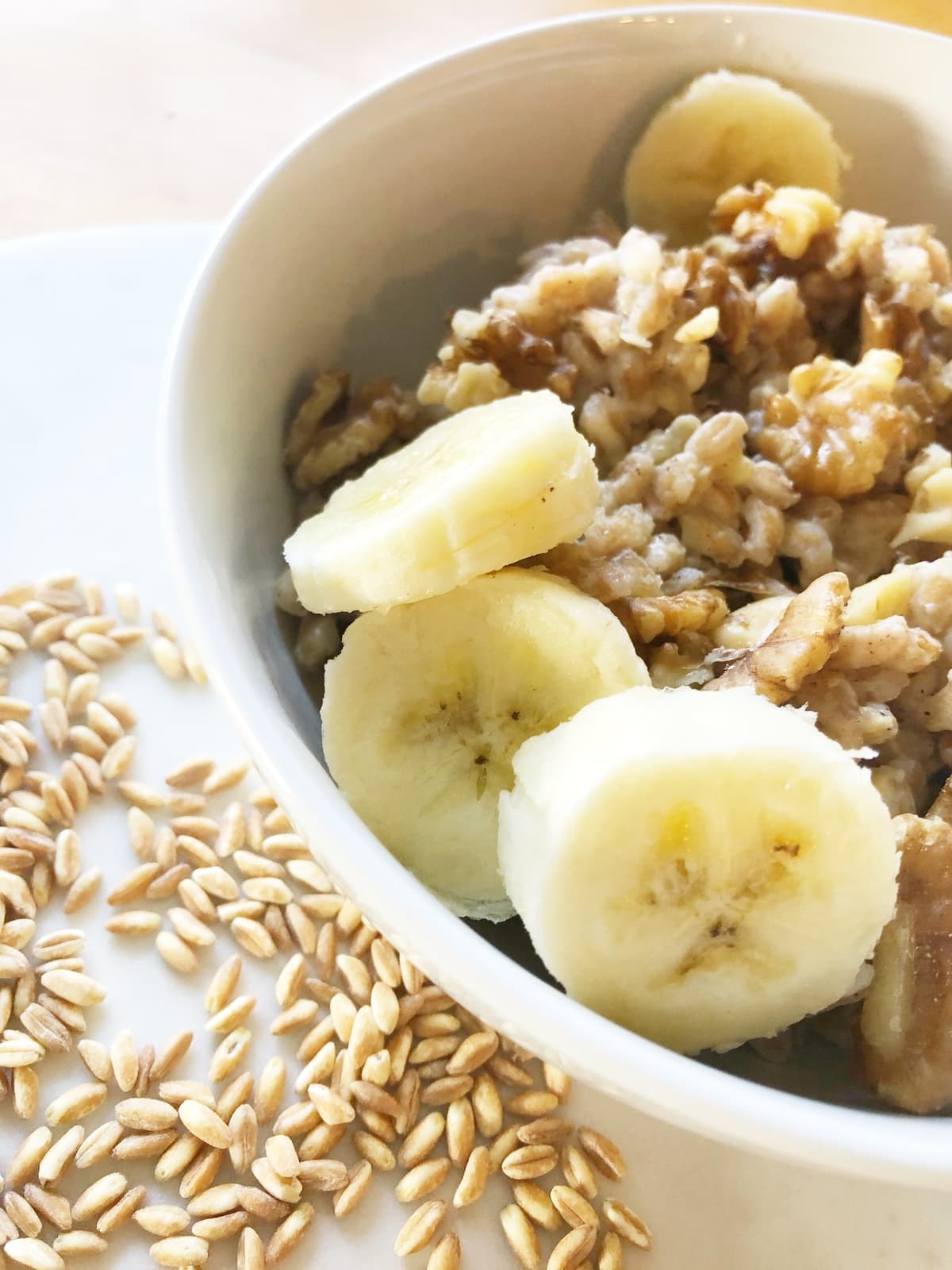 Farro meal prepping and storage
Farro is so versatile and you can make a large batch ahead of time for added convenience. Just boil the farro and store in an airtight container until you are ready to use it (I store it for up to 3 days). Then just add your desired mix-ins and heat on the stove.
Enjoy!
Banana Nut Farro Breakfast Bowl
This Banana Nut Farro Breakfast Bowl is healthy, filling, delicious and the perfect alternative to your normal breakfast.
Ingredients
1

cup

water

½

cup

farro

salt

per preference

½

cup

coconut almond milk

(or whatever milk you prefer), plus additional ¼-1/2 cup per preference

1

large

banana

divided, ripe

⅛

teaspoon

cinnamon

½

teaspoon

sugar

⅛

cup

walnuts, pecans, or nut of choice
Instructions
Bring one cup water and a pinch of salt to a boil.

Meanwhile, toast the farro over medium-low heat for about 10 minutes, swirling often to toast evenly and prevent burning (optional).

Once the water comes to a boil, add ½ cup farro and boil for about 15-20 minutes or until most of the water is absorbed.

Add ½ cup coconut almond milk and ½ ripe mashed banana, stir well.

Simmer on low heat for an additional 5 minutes or until most of the liquid has once again been absorbed.

Test the farro to make sure it is done. It should have a firm but chewy bite.

If it is too firm, just add additional coconut almond milk or water and continue cooking until done.

Add a pinch of salt, ⅛ teaspoon cinnamon, ½ teaspoon sugar, banana slices, nuts, and additional coconut almond milk per preference.
Notes
This recipe scales well so just double, triple, or quadruple the recipe as needed.  
You can also prep the farro ahead of time by boiling a larger batch and keeping in the refrigerator for up to 3 days to use as needed.