Learn how to make a quick, easy, and inexpensive DIY Dollar Tree Valentine heart wreath using just a few inexpensive materials.
Anyone who follows Missouri Girl Home knows two things:
I love a good deal.
I am a frequent shopper at the Dollar Tree.
When I saw these pink rose gold ornaments on clearance after Christmas I knew they would make the perfect Valentine heart wreath.
The wreath form is also available at Dollar Tree making this a very thrifty craft project.
Materials
Just 3 materials are needed to complete this project:
Christmas ball ornaments of various sizes in whatever color you desire.
A heart wreath form (I used a 12 inch wreath form but use whatever size you would like).
Hot glue gun with glue sticks.
That's it!
The heart wreath form I used was actually an inexpensive heart wreath from the Dollar Tree. It was made out of tinsel that was wired to an existing wreath form and already had a ribbon hanger attached. Yay!
Cost
The total cost of this project was just $5 as I got all of the Christmas ornaments on clearance after Christmas and the form was just $1.00 (now $1.25 with the recent price increase).
I did price other heart wreath forms from other craft stores and the cheapest I could find them for was $3.50, so $1.25 is a steal.
I also had the glue sticks on hand so, no additional cost there.
If you had to buy all materials at cost with the recent price increase, the total cost would be about $11.00.
Time to complete this project
I have become a pro at assembling Christmas bulb wreaths, so I was able to complete this project in about 30 minutes. For those of you doing this the first time, I would plan on at least an hour.
Dollar Tree Cost Saving Tip
My ultimate cost saving Dollar Tree Tip is to shop the after holiday clearance sale. During the holidays, I always case out the store for items I hope to buy in bulk when it goes on sale.
Christmas ornaments are always top on the top of my list as I can use them year around for future craft projects. I love to see what colors are trending each year and how I can incorporate it into other holiday projects.
Pink or red ornaments are perfect for Valentine crafts.
Pastels are great for Easter or Spring projects.
Lots of green ornaments available? St. Patrick's Day.
Black, Silver, and Gold? This color combination is great for New Years. One of my favorite New Years craft projects was this DIY Dollar Tree New Years Wreath.
How to make a DIY Dollar Tree Valentine Heart Wreath
First, plug in your hot glue gun.
Next, hot glue a row of large bulbs around the inner perimeter of the heart wreath form. Make sure to glue the bulbs to both the wreath form itself and the bulbs on either side. This is not a step you want to skip as the structure of the wreath comes from the bulbs being glued together.
Next, begin gluing varying sized bulbs around the wreath form in a random pattern.
Occasionally stand back and make sure the color variation looks natural and the shape of the heart is being maintained.
Don't be concerned if the tinsel from the wreath form shows between the bulbs. It is relatively unnoticeable once the wreath is complete.
Here is the completed wreath hanging on my front door.
So make sure you grab up those Christmas bulbs after Christmas next year and get to making some Christmas bulb wreaths!
Send me pictures of your completed projects!!!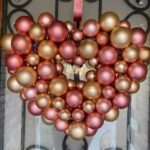 Print
Dollar Tree Valentine Wreath
Learn how to make a quick, easy, and inexpensive DIY Dollar Tree Valentine wreath with just a few materials.
Materials
1

hot glue gun

15

glue sticks

1

12 inch

heart wreath form

50-65

Christmas ornament bulbs in varying sizes and desired colors
Instructions
Plug in and turn on the hot glue gun.

Place the heart wreath form on a solid surface that is protected from the hot glue.

Begin gluing bulbs to the wreath by adding larger bulbs in a single row around the inner perimeter of the wreath. Make sure to hot glue each bulb to the wreath form itself and to the bulb on either side for a secure and strong wreath. If you don't secure the bulbs together, the bulbs will likely rattle and may even fall off the wreath.

Begin filling in the wreath with varying sized bulbs until the wreath is completely covered. It is helpful to occasionally step back and make sure the heart shape of the wreath is maintained.