Learn how to make a Copycat Pasta Express salad for a fraction of the cost.
It was time for the annual cheer team Christmas party and I needed to feed a crowd of 30. The menu? A crowd pleasing pasta, salad, rolls, and countless desserts, including my crockpot Pumpkin Cobbler, ooey gooey Hot Chocolate Cookies, and coffee lover's Affogatos.
The girls just love Pasta Express Salad and frequently request it for team dinners but I was shocked at the cost of two party sized trays…a whopping $80!
What?!?!
So I set out to make a budget friendly Copycat Pasta Express Salad with an amazing homemade Italian salad dressing.
Ingredients
Most of the ingredients used in this salad are pantry staples that are likely already hiding in the cabinet somewhere. I have listed two versions: a classic Pasta Express version and then optional ingredients you can add to take it to the next level.
Salad dressing
Olive oil (not extra virgin)
Red wine vinegar
honey
pepper
salt
Italian seasoning
cayenne pepper
Each of these ingredients are essential to creating a perfect copycat recipe. The honey gives the dressing just the right touch of sweetness.
Optional additional salad dressing ingredients
If you want to take this salad dressing to the next level then you can add a few extra ingredients.
minced garlic
Dijon mustard
The garlic adds additional flavor to the dressing and the Dijon mustard acts as a binder which which also takes the flavor to the next level. If you do use these ingredients, I recommend adding all of the salad dressing ingredients to a food processor and pulsing until well combined.
Salad
iceberg lettuce
green leaf lettuce
finely grated Parmesan
red onion
Don't worry about buying the expensive Parmesan. The cheap stuff actually works great in this recipe and holds up well when the salad dressing is added.
Optional additional salad ingredients
artichokes
tomatoes
pimentos
pepperchini peppers
The ingredients listed above are not normally in a Pasta Express salad but they are delicious and the perfect addition to any Italian salad.
Cost
The cost of this Copycat Pasta Express Salad was about ⅛ of the cost of buying from Pasta Express. I was able to make two party sized platters for a little over $10. So much cheaper than the $80 I would have payed.
The Steps to making a Copycat Pasta Express Salad
Make the salad dressing
Combine the olive oil, red wine vinegar, honey, salt, pepper, Italian seasoning, and cayenne pepper in a glass jar with a tight fitting lid. Secure the lid and give the salad dressing a good shake. Set aside
Make the salad
Slice the red onion to desired size. I tend to prefer using whole round slices of onion because it's easier for people that don't like onions to pull them out.
Place the onions in a bowl, add ¼ cup of the salad, and toss. Allow the onions to marinade in the Italian dressing for at least 10 minutes but longer is better.
Meanwhile, prepare your lettuce. As with any salad recipe the lettuce plays a leading role so make sure you use bright, fresh, and crisp lettuce. I like to use two different kinds for varying color and texture: iceberg lettuce and green leaf lettuce.
Cut into bite size pieces and add to an extra large salad bowl. This salad is huge and feeds a crowd so you may even want to put half into a bowl and safe the rest for later. Set aside.
Assemble the salad by tossing together the lettuce and the homemade Italian salad dressing. Use as much or as little as you like.
Then add the finely grated Parmesan cheese and give the salad a quick toss.
Top with onions and serve immediately.
Frequently asked questions
Can this salad be made ahead of time?
No, unfortunately you can not make this salad in its entirety ahead of time as the lettuce leaves will wilt once the salad dressing has been added. However, you can prepare the components separately and store in separate containers. Assemble the salad just prior to serving.
Does this salad really taste like the Pasta Express salad?
The base of this recipe is spot on and tastes just like the pasta express salad. But I have a dirty little secret. When I was frantically tying to make this recipe the first time when I had 19 hungry cheerleaders waiting to eat, I made a different version that was actually better than the original. So make sure you check out the optional added ingredients as it's amazing!
Can the salad dressing be stored in the refrigerator?
This recipe has olive oil in it which can solidify at cold temperatures. I recommend only mixing up what you need but you can also store in the refrigerator for up to 2 weeks. Make sure to let the dressing sit at room temperature before serving.
What can I do to keep my Italian salad dressing ingredients from separating?
Oil and vinegar based salad dressing will always separate as they rest. It's simply science. The only way to make them not separate is to add an emulsifier, like mayo, to bind the ingredients. Otherwise just stir or shake the salad dressing well just prior to serving.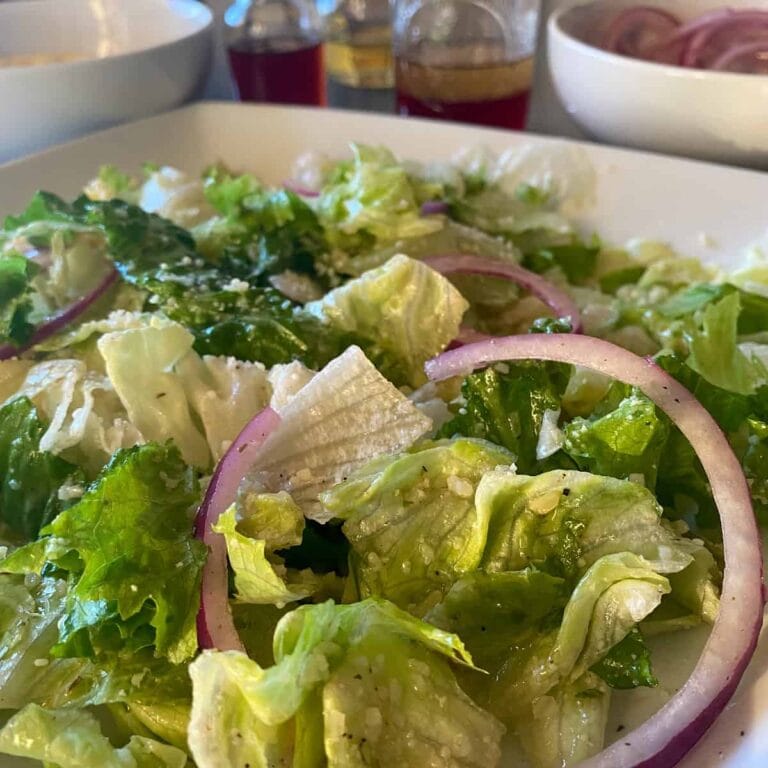 Copycat Pasta Express Salad
This copycat Pasta Express salad is a dead ringer for the original and can be made for just a fraction of the price.
Ingredients
Salad dressing
½

cup

olive oil

⅓

cup

red wine vinegar

2

teaspoon

honey

½

teaspoon

salt

¼

teaspoon

Italian seasoning

⅛

teaspoon

pepper

course ground

1

pinch

cayenne pepper
Optional additional salad dressing ingredients
2

teaspoon

garlic

minced

¼

teaspoon

dijon mustard
Salad
1

head

iceberg lettuce

1

bunch

green leaf lettuce

1

small

red onion

½

cup

Parmesan cheese

finely grated
Instructions
Make the salad dressing
Combine the olive oil, red wine vinegar, honey, salt, Italian seasoning, pepper, and cayenne pepper in a glass jar with a tightly fitted lid.

Shake well and set aside.
Marinade the red onions
Cut a medium red onion into rings and place into a medium bowl.

Add ¼ cup of the salad dressing to the red onion rings and toss well. Set aside. For best results allow the red onions to marinate until the onions soften, but 10 minutes minimum.
Assemble the salad
Cut the iceberg lettuce and the green leaf lettuce into small, bite sized pieces and place into an extra large bowl.

Pour the desired amount of the dressing over the lettuce. Start with just a little and add as needed. A little goes a long way. Toss well to coat all the pieces of lettuce.

Add the desired amount of marinated red onion slices.

Sprinkle the finely grated Parmesan cheese over the salad and toss well.