Learn how to grow pumpkins vertically in a very small space by turning rolled wire fencing into a pumpkin tower trellis.
Fall is my favorite season and I always anticipate the time of year I get to break out the pumpkins and pumpkin spice.
However, those pumpkins can be quite expensive and you can save a ton of money by growing them yourself.
Pumpkins generally take up a lot of space as their vines can reach 20+ feet. Many people with small yards (or no yards at all) may not have considered growing pumpkins. However, you can do this successfully with just a 2 X 2 square foot garden space or a very large container which makes this the most efficient pumpkin growing system around.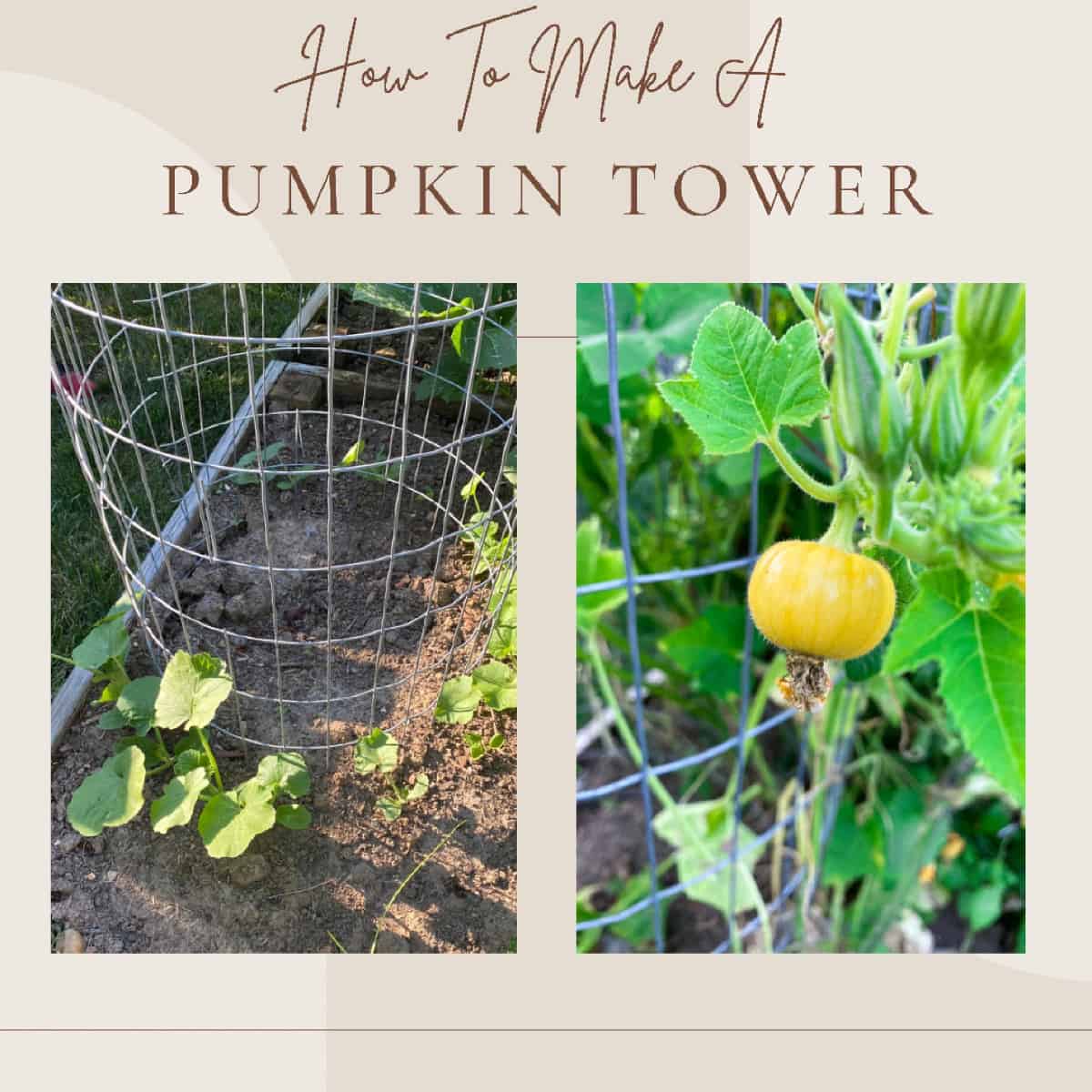 How to make a pumpkin tower to grow pumpkins vertically
Growing pumpkins vertically is quite easy. All you need is a structure for the pumpkin vines to grab onto, good soil, water, adequate sunlight, pumpkin seeds, and a little bit of space. That's it!
Here's how:
Dig a hole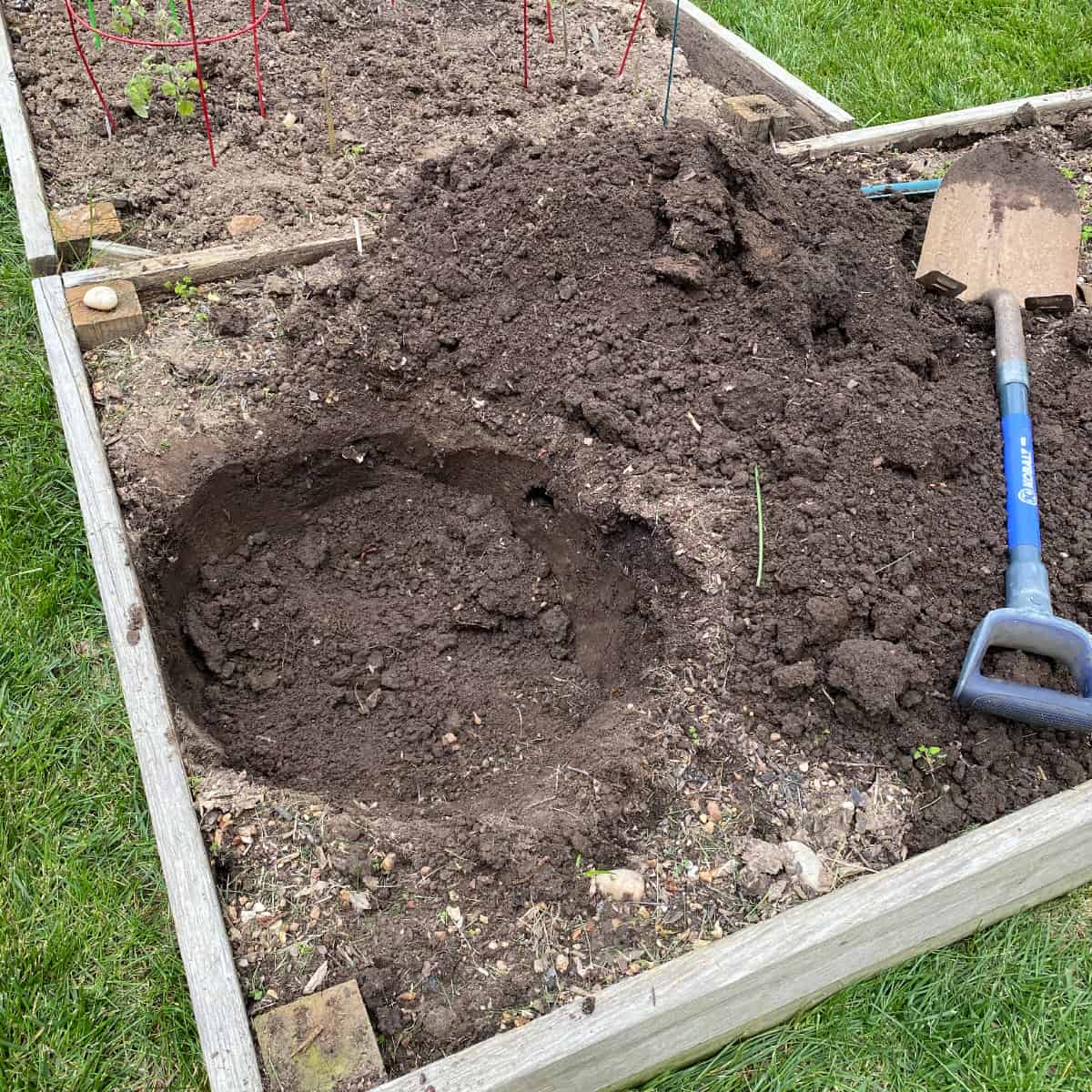 Find a space in your garden that is at least 5 square feet. Dig a round hole that is about 2.5 feet in diameter and 1 foot deep.
Make the pumpkin tower trellis
Cut a section of wire fencing with wire cutters. To make a pumpkin tower trellis that is 2 feet in diameter you will need about 4 feet of wire fencing. The fencing I used was 6 feet in height. You may want to zip tie the seam but this is not required (I didn't use zip ties).
Insert the pumpkin tower into the hole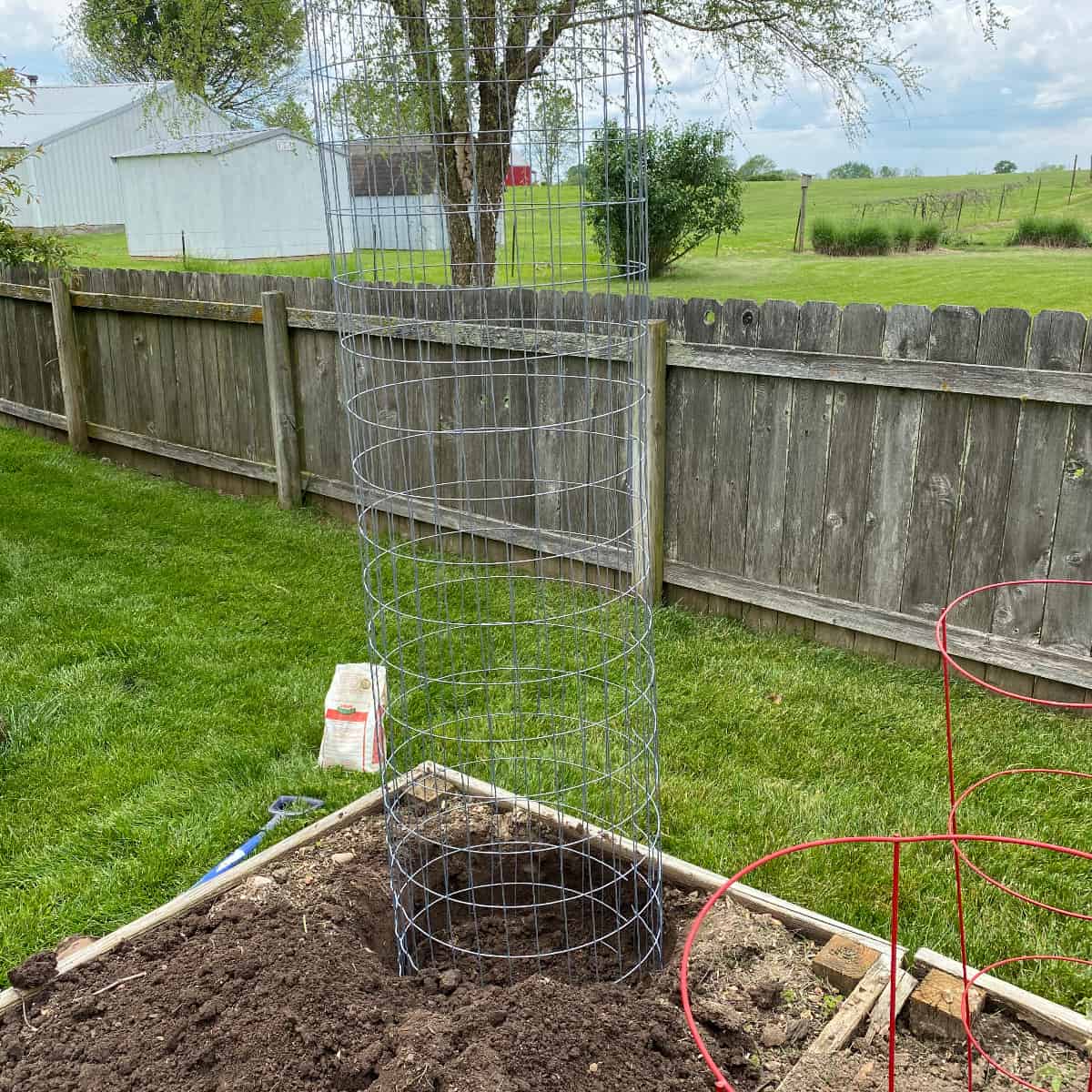 Fill in the hole and surround the pumpkin tower with soil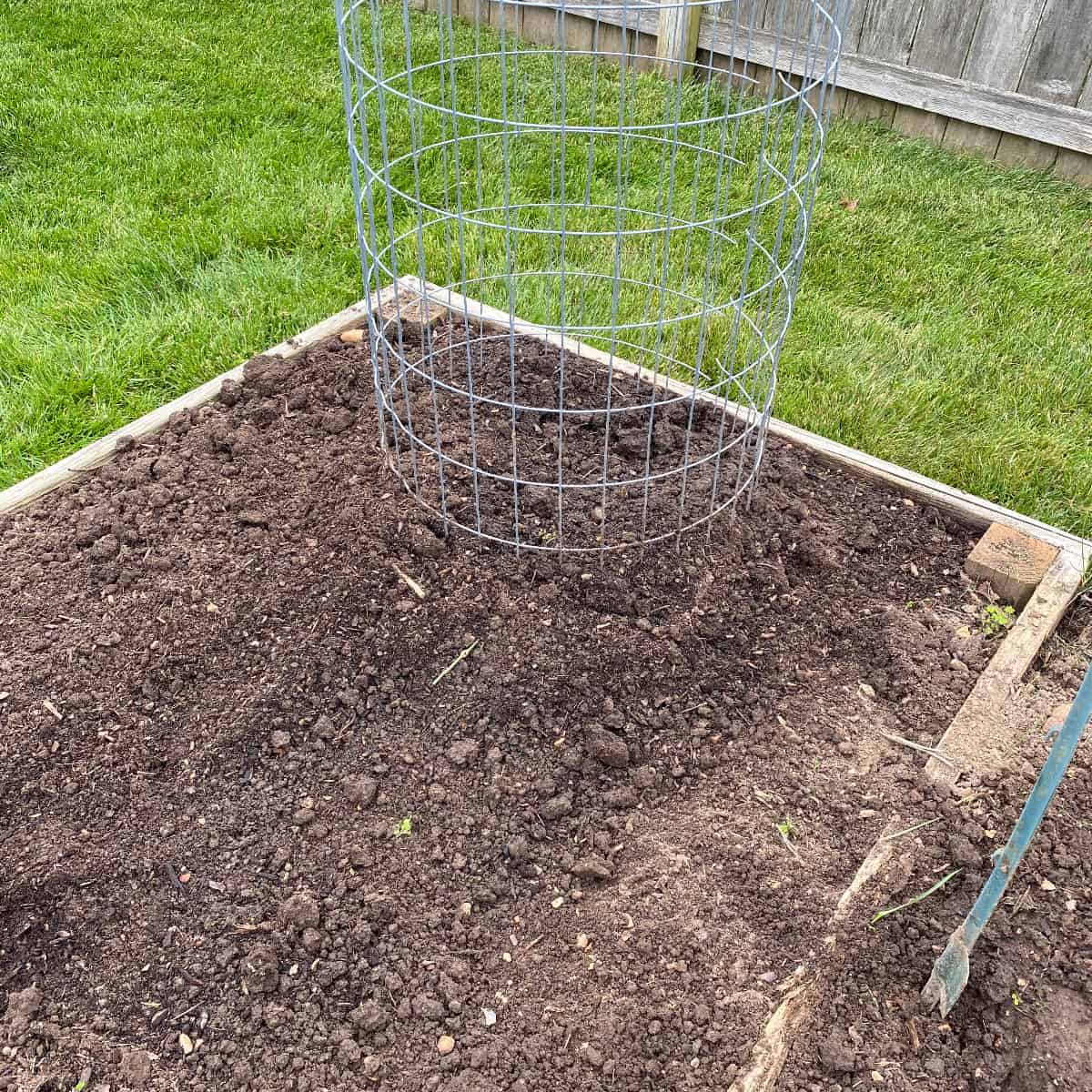 Fill the hole back in loosely with soil. You don't want to pack it in because you will be planting pumpkin seeds around the perimeter and the pumpkins will grow best with loose soil. As you water, the soil will settle firming around the pumpkin tower.
Plant pumpkin seeds
Plant the pumpkin seeds around the perimeter of the pumpkin tower. Water well.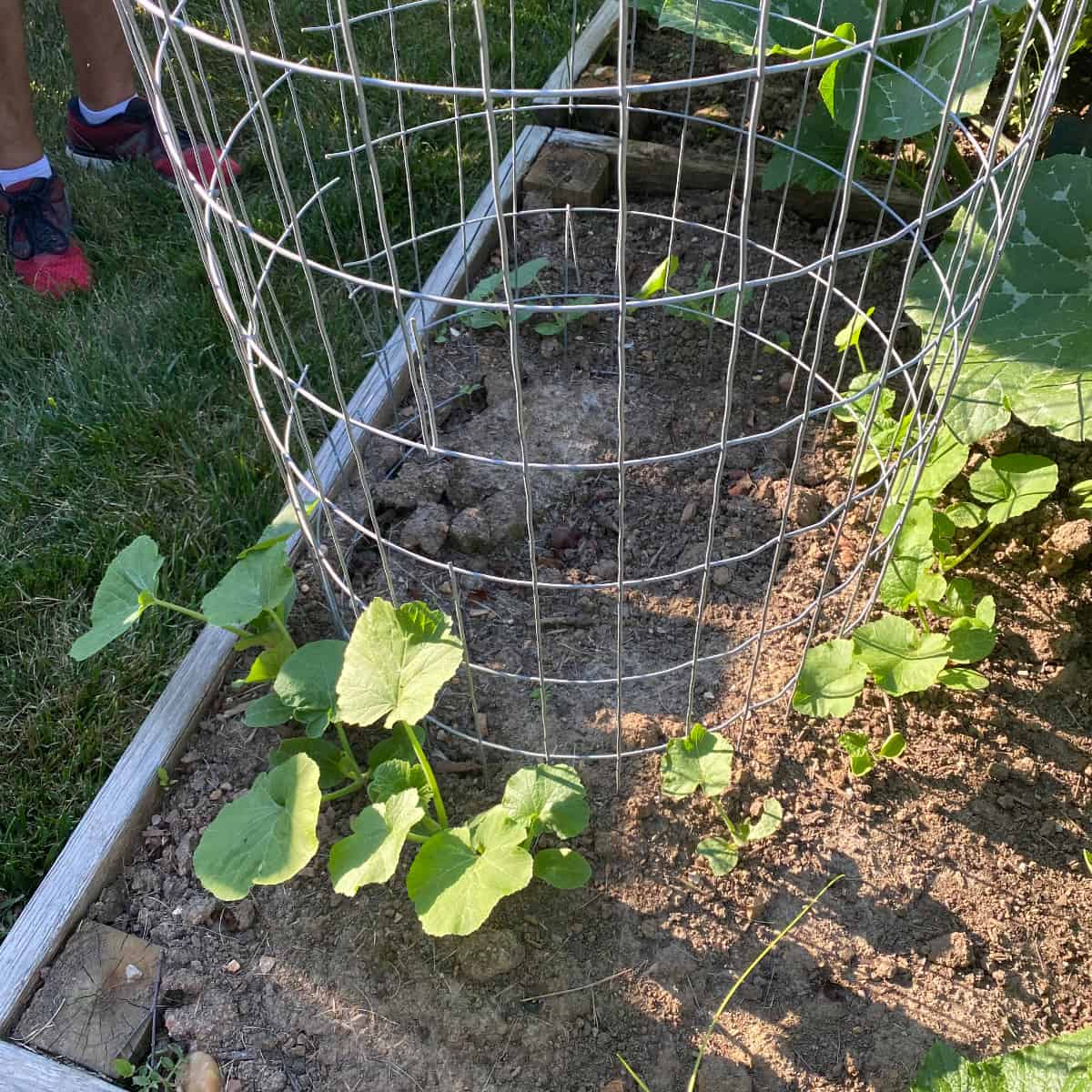 Before you know it you will have tons of pumpkin vines emerging from the ground.
Train the pumpkin vines
Initially the pumpkin vines will need to be trained upward by weaving them through the wire fencing. Eventually they will begin to climb and cling to the pumpkin tower on their own. It is helpful to cut a couple "windows" in the fencing so you can easily reach inside to train the vines and retrieve pumpkins.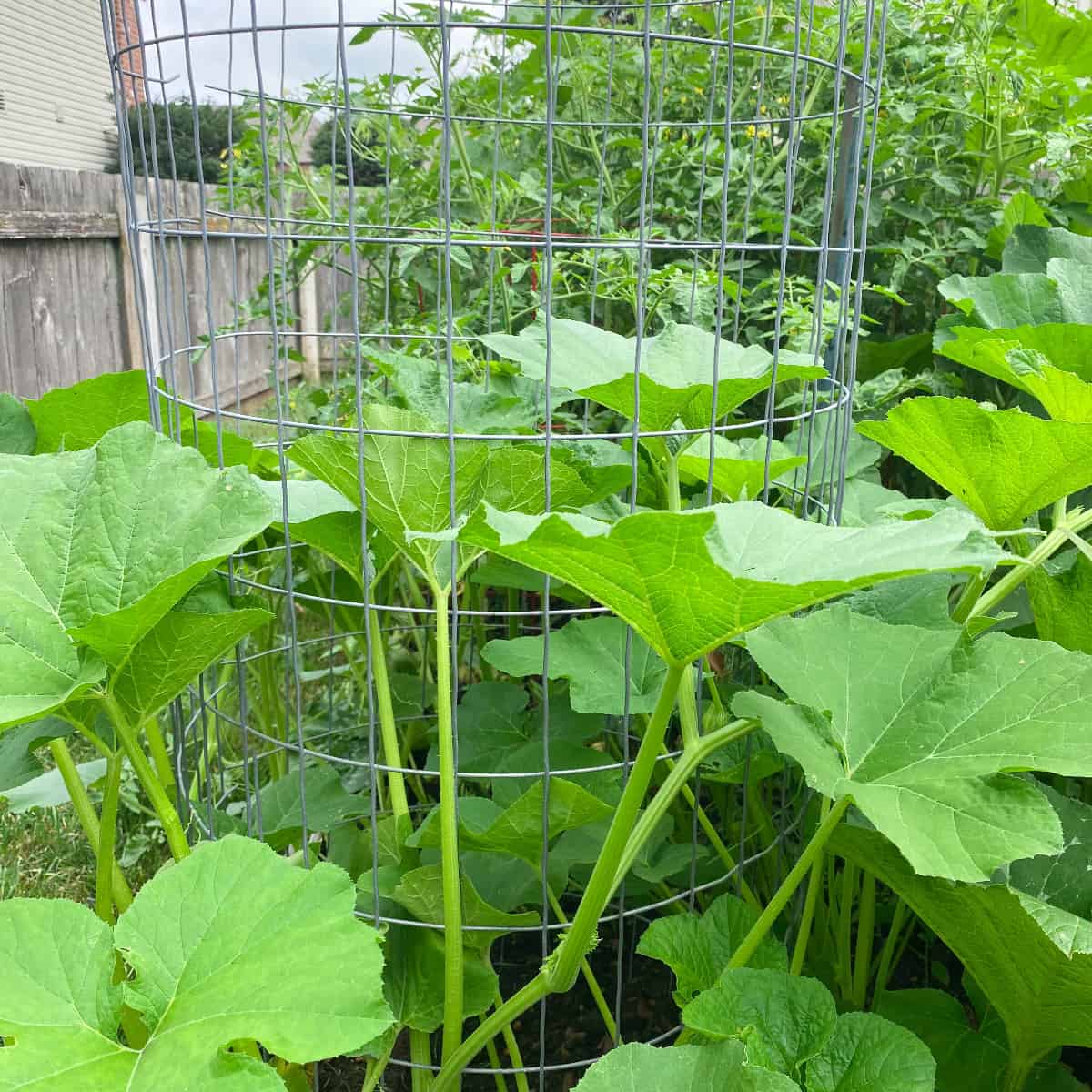 Types of pumpkins to plant
In theory you could grow any type of pumpkin vertically but I highly recommend sticking with miniature or medium varieties. Larger pumpkins will need added support as it grows so it doesn't break off of the vine. Below are several varieties that I currently have growing on my pumpkin tower, including my favorite Baby Boo.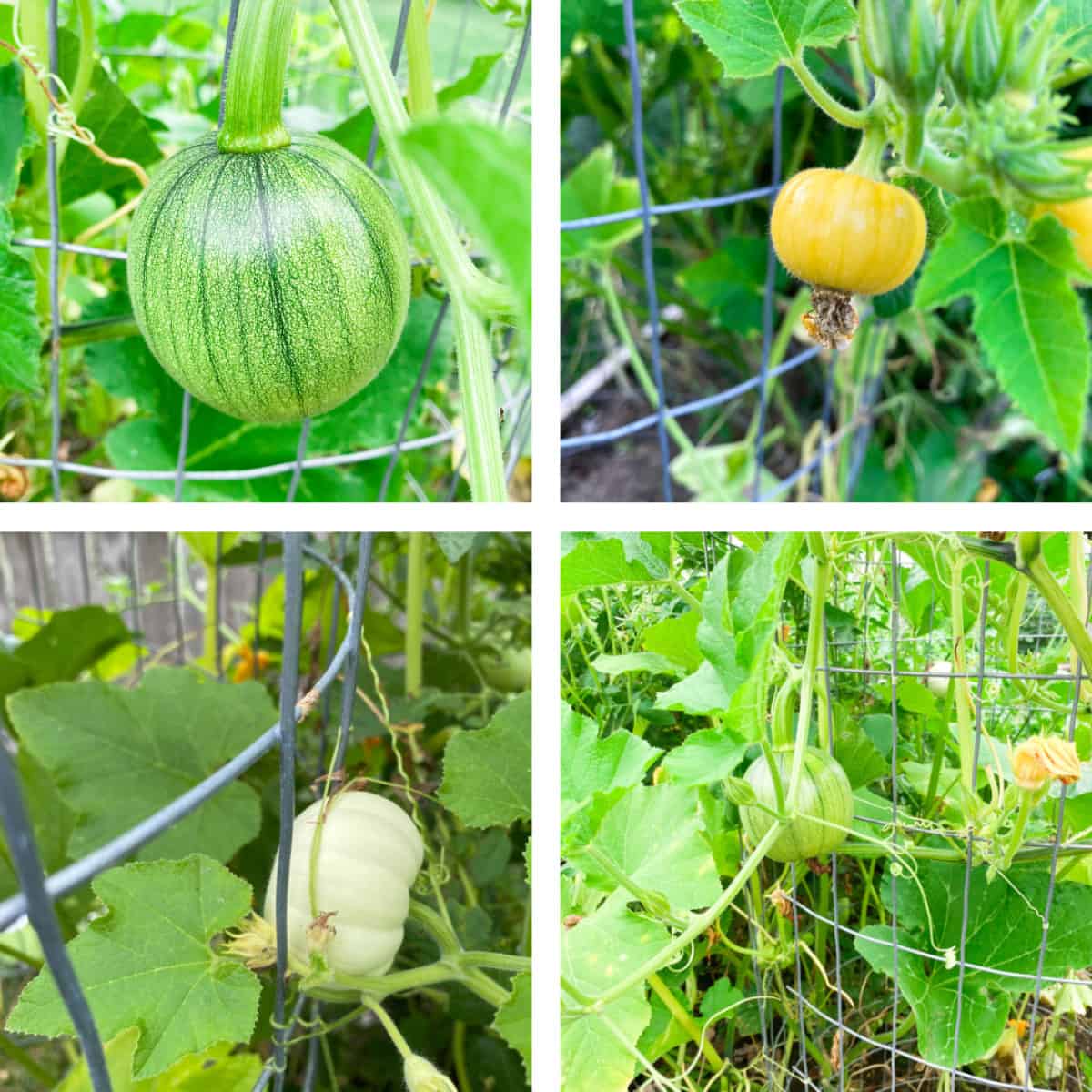 How to grow pumpkins successfully
Growing pumpkins successfully takes a bit of planning but is very easy to do. With just a few simple steps you will have loads of pumpkins just in time for fall.
Know how long it will take for your pumpkin variety to mature
Not all pumpkins are created equal.
There are big pumpkins, little pumpkins, and everything in between.
The average maturity date for pumpkins range from 90 days to 120 days. Miniature pumpkins take the shortest amount of time to grow and can be ready to harvest in as little as 80 days (I have had several baby pumpkins mature in even less time than this).
By knowing how long your pumpkins will take to mature, you can then decide on the best time to plant.
Note: you can always plant early and then store the pumpkins in a cool and dry location until you are ready to use them.
Plant in a sunny location
Pumpkins LOVE sunlight so make sure you plant your pumpkin seeds in an area that receives a minimum of 6 hours of sunlight.
Temperature
Though we all think of fall when we think of pumpkins, they are actually warm weather plants. Most varieties can tolerate a very light frost but it is best to wait until the threat of frost has past before planting.
Space
Pumpkins vines can be very long so it important to make sure you plan accordingly. If growing pumpkins on the ground, you will need room for the vines to spread out. The vines can exceed 20+ feet so you will need a BIG space for this…unless you make a pumpkin tower! Growing pumpkins vertically drastically reduces the space needed as the vine will grow up the pumpkin tower and then back down, maximizing your space.
Pests and disease
Gardening is very rewarding but often comes with a few challenges as well. The most common issues I have encountered are:
squash bugs
powdery mildew
You can check out how I treat powdery mildew organically with buttermilk here. I also discuss squash bugs and how to prevent a squash bug infestation in the same article. Those darn squash bugs are a PAIN! The key is prevention, prevention, prevention!
Growing Pumpkins Vertically in Containers
So what if you don't have a yard at all?
No problem!
If you have a sunny patio space then you can in fact still grown pumpkins using the "pumpkin tower method". You will need a tall and wide container for best results. Measure the circumference of your planter, cut the wire fencing to size, and place around the container.
Please send me pictures of your pumpkin towers! You can also tag @missourigirlhome on your social media.
Happy growing!
How long does it take to grow pumpkins?
The length of time it takes for a pumpkin to reach full maturity is dependent on the variety you are growing. The average range for growing pumpkins is 90-120 days. Smaller pumpkins take less time to grow whereas larger pumpkins take more time to grow.
Can pumpkins be grown vertically?
Absolutely! Pumpkins can easily be trained to grow up a trellis or you can build a pumpkin tower to house your pumpkin vines.
How many pumpkins grow per plant?
The amount of pumpkins that grow on each vine varies greatly and is dependent on a range of factors. One pumpkin vine can produce anywhere from 0 pumpkins to 5 pumpkins. Factors that influence this includes temperatures, available male and female flowers, active pollinators, and presence of pests and disease.
Does the pumpkin tower trellis withstand high winds?
Here in Missouri, the weather can be very extreme with storms and high wind. We have had several storms come through that have taken out trees but the pumpkin tower remained untouched. Just make sure you bury the tower at least 1 foot.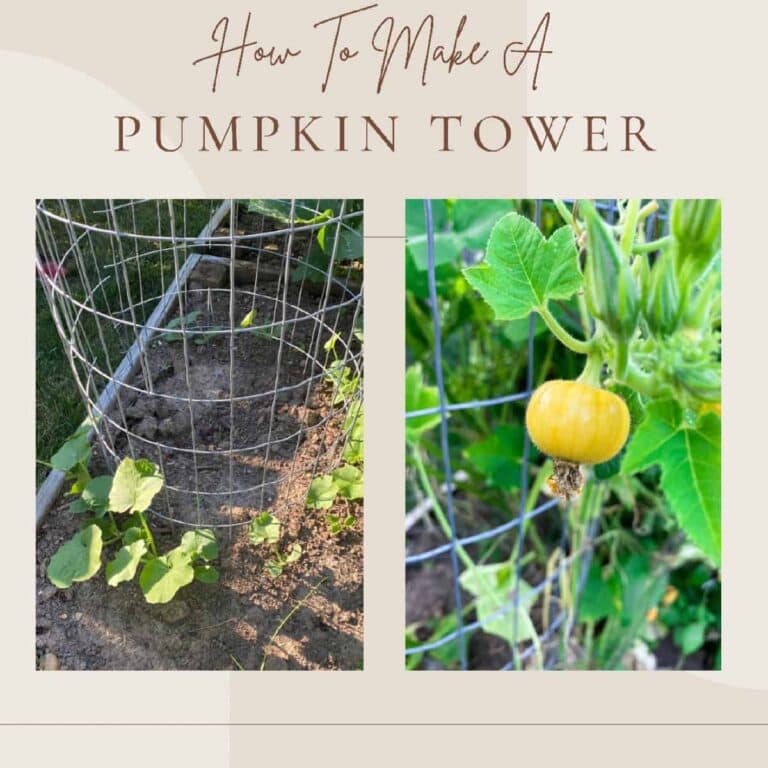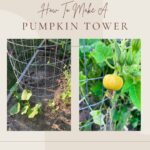 Print
Growing Pumpkins Vertically In A Small Space
Learn how to grow pumpkins vertically in a very small space by turning inexpensive rolled wire fencing into a pumpkin tower trellis.
Equipment
wire fencing

wire cutters

zip ties (optional)

shovel
Instructions
Pick your garden space to grow your pumpkins. It needs to be at least five square feet and in a location that gets greater than 6 hours of sunlight.

Unroll a section of the wire fencing and cut off a section that can be shaped into a circle that is two feet in diameter.

Dig a hole in the ground that is at least 12 inches deep and 2.5 feet across.

Place your wire fencing "pumpkin tower" into the hole.

Secure the seam using zip ties (optional).

Fill in the hole, burying the bottom 12 inches of the tower to create a secure base.

Plant a variety of pumpkin seeds around the base of the tower when the weather is warm and night time temperatures don't fall below 50 degrees.

Watch for the first sprouts. As the pumpkin vines grow, help train them vertically by attaching them loosely to the wire fencing with plant ties or twine (or weaving them throughout the fencing).

As the pumpkins grow, you may need to support larger pumpkins with a stretchy fabric like pantyhose.
Notes
Pumpkin towers are best for small to medium sized pumpkins as larger pumpkins can cause the tower to lean.
As the pumpkins grow, they may need some additional support.  Pantyhose works well for this.