Learn how to take your coffee to the next level by making cafe quality, gourmet, homemade chili simple syrup for a fraction of the price.
Does adding chili peppers to simple syrup seem a bit odd?
I agree.
I had never experimented with adding heat to my sweets…until now. This simple syrup has completely changed the way I think about spice and recipes with a kick.
I'm addicted and keep this simple syrup in my refrigerator at all times.
Jump to:
Chili Simple Syrup and the Pioneer Woman's Spicy Cowgirl Coffee
Welcome to Missouri Girl Home: Coffee Edition, Part 2
If you have never tried chili simple syrup before, you MUST make it.
Today.
This post is the second in a three part coffee series in which I take you through the steps to make an out-of-this-world coffee that I had when I visited the Pioneer Woman's Mercantile in Pawhuska, Oklahoma: The Spicy Cowgirl Coffee.
There are 3 steps to making this coffee:
Make the simple syrup (see below).
Assemble the Spicy Cowgirl Coffee.
What is simple syrup?
Simple syrup is a thick, sweet liquid that is made by combining equal parts sugar and water then boiling until the sugar is dissolved.
I used to buy the store bought kind that's usually found in specialty food stores or in the coffee section of your local grocer, but I then discovered just how incredibly easy it is to make my own simple syrup at home for just a fraction of the cost.
It really is that simple.
Maybe that's why it's called simple syrup?!?!
What is it used for?
It can be used as a sweetening agent for desserts to create a smoother texture or it can be used to sweeten beverages like coffee and tea.
Simple syrup flavor combinations
Simple syrup is fantastic on it's own but you can also infuse extra flavor into it. These are just a few examples:
Vanilla infused simple syrup
Mint infused simple syrup
Fruit infused simple syrup: blackberry, blueberry, strawberry, raspberry…
Lavender infused simple syrup
Rosemary infused simple syrup
Cinnamon infused simple syrup
Or try a combination of these like blackberry lavender, vanilla strawberry, lavender thyme, cinnamon vanilla…
The possibilities really are endless.
What is Chili Simple Syrup?
My favorite homemade simple syrup flavor, however, just might be this hot chili pepper infused simple syrup.
This sweet and spicy chili simple syrup is made by soaking chili peppers in a simple syrup. The simple syrup becomes infused with the chili peppers creating a slightly spicy, sultry, amber colored simple syrup that is truly addicting.
What kind of peppers do I use?
Any dried chili pepper can be used to make homemade chili simple syrup. It all depends on the amount of heat you are looking for. I have used several different kinds and they are all good. I found a small bag of these dried chili peppers at my local grocer for about $1.
How do I make it?
To infuse the chilies into your simple syrup, just throw the whole chili (seeds, stems, and all) into the pan with the sugar and water prior to boiling. You can also chop the peppers if you prefer. Caution: not all chili peppers have the same amount of heat. Some are hot, hot, HOT and you may want to put on a glove prior to handling. Always remember to avoid touching your face/eyes after handling chili peppers (I may or may not have previous experience with this).
The amount of chilies you use really depends on several factors:
Type of pepper used/how hot the chili peppers are.
How much simple syrup you are making.
Your preferred amount of heat.
Bring the simple syrup to a boil and stir until the sugar dissolves. Remove from the heat and allow the peppers to seep in the simple syrup as it cools. It is ready to use in as little as 10 minutes but for the best flavor, allow the chili peppers to seep in the simple syrup for about 2 hours to fully infuse the flavor.
Finally, strain the chili simple syrup through a fine mesh sieve to remove all seeds and peppers.
Once strained, transfer the simple liquid to an air tight container and store in the refrigerator for up to one month. You can also place some of the pepper back into the chili simple syrup for a little extra kick.
Missouri Girl Home Tip
You can usually find cute and affordable glass storage containers at your local craft store. They are frequently on sale so stock up when you can and give as gifts to friends and neighbors for Christmas, housewarming, or a hostess gift.
Frequently asked questions
What can I use simple syrup for?
Simple syrup can be used to sweeten beverages like coffee, tea, or alcoholic beverages. It can also be used to moisten cakes, for poaching fruit, use as a syrup, add to meringues, or as a sweetener for oatmeal.
What kind of sugar do I use to make chili simple syrup?
Granulated white sugar.
What are the best chili peppers to use for chili simple syrup?
Any kind of dried pepper can be used for making chili simple syrup. It depends on personal preference, how hot you want the syrup to be, and what kind of flavor profile you are looking for. My personal favorite pepper to date is a hatch chili pepper that creates a deep amber color with a mild heat.
Does chili simple syrup need to be stored in the refrigerator?
For best results, store the chili simple syrup in the refrigerator for up to 1 month.
Enjoy!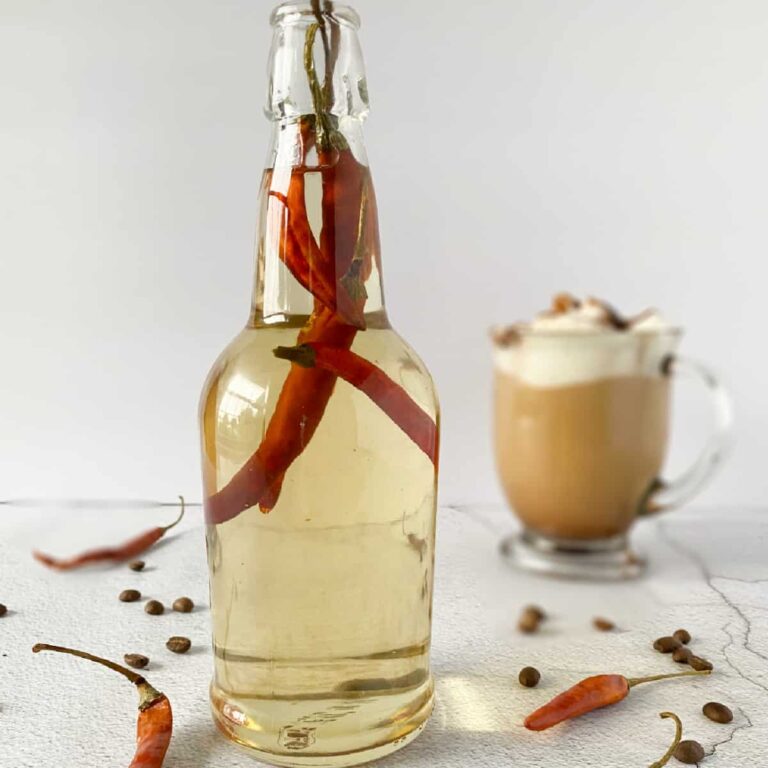 Homemade Sweet and Spicy Chili Simple Syrup Recipe
Learn how to take your coffee to the next level by making cafe quality gourmet chili simple syrup for a fraction of the price.
Ingredients
2

cups

water

2

cups

sugar

4-8

dried chili peppers (depending on heat preference and type of chili used)

chopped or whole
Instructions
Combine the water, sugar, and dried chili peppers in a small sauce pan.

Give a quick stir until all of the sugar is dissolved, about 2-3 minutes and then remove from the heat.

Cool and allow the chili peppers to infuse into the simple syrup for a minimum of 10 minutes or up to 2 hours.

Strain the syrup through a fine mesh sieve into a bowl to remove the peppers and seeds, then transfer to storage container of choice (careful as it may still be hot).

Store in the refrigerator in an air tight container for about one month.